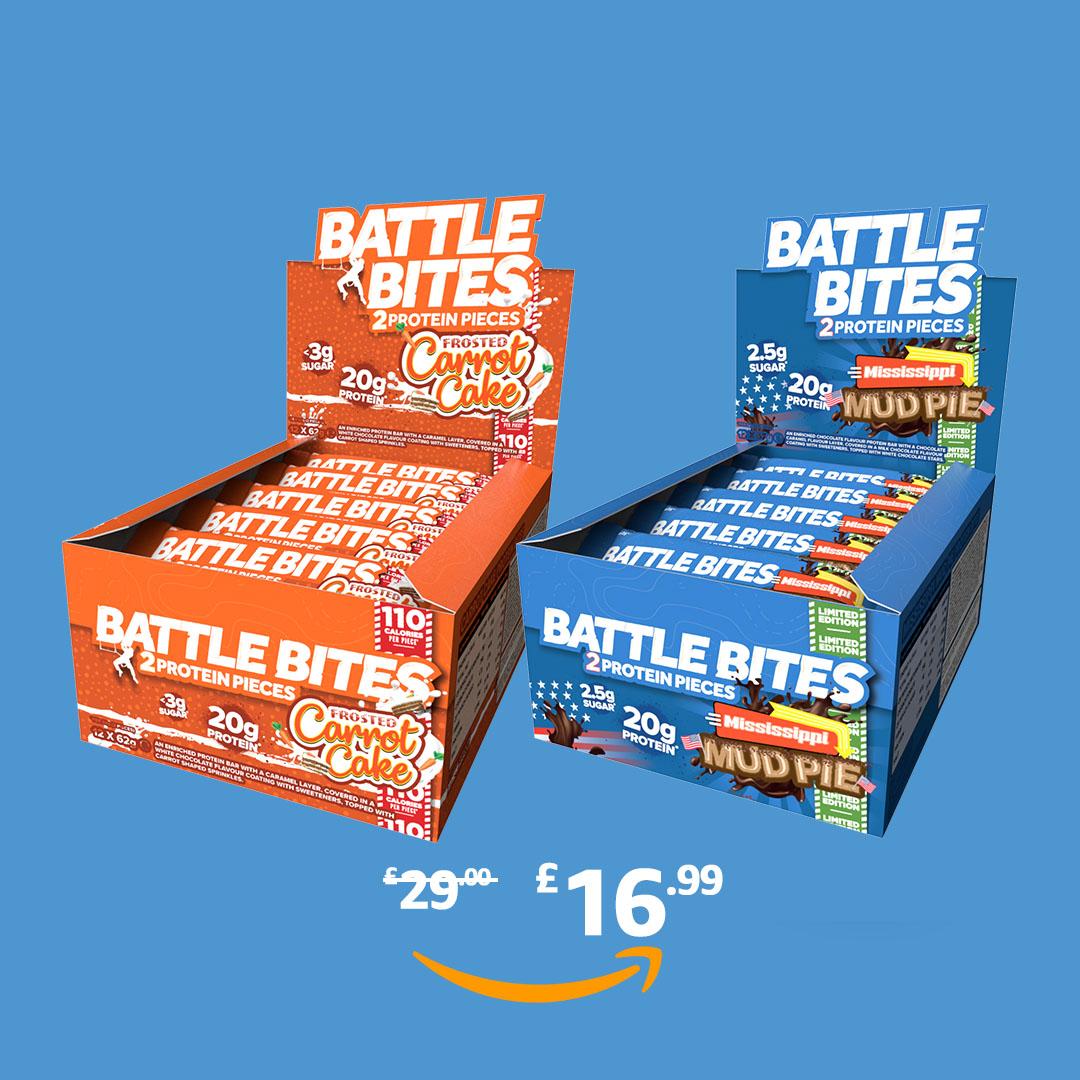 NEW YEAR'S DEAL. BATTLE BITES £16.99 PER BOX AT OUR AMAZON STORE.  
Whilst supplies last.  


Now is a great time to stock up and save. 
RESOLUTIONS? PIECE OF CAKE 🎂
To help you start the New Year off right all our dessert-like Battle Bites are £16.99 at our Amazon store. Now's the time to stock up and save this January. 
Our top selling bundles. Buy any two boxes and save



See what people are saying!
⭐️⭐️⭐️⭐️⭐️
Absolute Heaven. Oh my god. These protein bars have actually changed my life. They are so unbelievably tasty and the texture is TO DIE FOR. I am so obsessed I have at least one bar a day, I am so addicted. Grenade and PhD have been my favourites for years, but now that I've tried battle bites I will never go back! The nutritional values and taste just cannot be beaten! Best discovery I ever made.
—Kiera
⭐️⭐️⭐️⭐️⭐️
Excellent product
A friend showed me this offer and it intrigued me. Me and my step-dad decided to go halves and get a box each. Chocolate caramel and birthday cake are both fantastic flavours and taste better than most protein bars I've had before. Delivery came within 2 days, quick. Will no doubt buy this product again.
—Liam Blakey
⭐️⭐️⭐️⭐️⭐️
Best tasting Protein bars EVER
I've tasted plenty of protein bars in the past and usually find them either dry or tacky but Battle Bite are neither, they are both soft and very very tasty and in my opinion the BEST protein bars I've EVER tasted but don't take my word buy some and see for yourself 😋
— Keith Haines
⭐️⭐️⭐️⭐️⭐️
Excellent service
I placed my order and recieved 10 % off, it was also delivered the next day, great company. I would recommend and will be using this company again in the future.
—Ashleigh Cameron
Lock in your favourite flavours every month with our Subscribe and Save 
Subscribe and Save 40%.
Set it and forget it, cancel anytime.